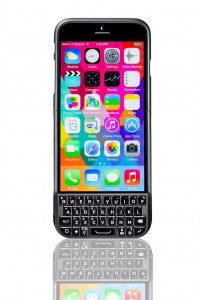 Okay, I might as well just come out and say it and say that the TYPO 2 is a keyboard for your iPhone. Sure, you could get a Bluetooth keyboard, but the TYPO 2 is made for the device itself, the iPhone.
Also, why should I have a keyboard on my iPhone when the iPhone gives me one already? Well, the TYPO2 hangs out at the bottom of the screen and brings back 1/3 more viewable screen space. Just to let you know, you can lock the keyboard in case you want to avoid any in-pocket dialing or typing.
There is also some kind of backlighting going on with the keyboard and there is a battery indicator so you can see the TYPO 2 battery life anytime.
You should be able to purchase the TYPO 2 for the iPhone 6 here for $99.00, and the original for the TYPO here for $79.00.