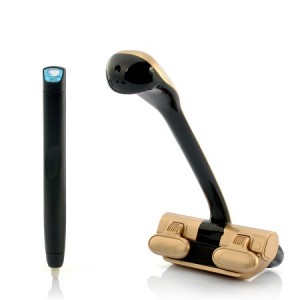 I'm sure that some members of my audience are reading this post with a laptop. Of those readers, you may be regretting that you didn't buy a touchscreen laptop. Considering that Windows 8 is touchscreen-optimized, I can see why.
If you want a touchscreen for your non-touchscreen laptop, you can always get a Touch Screen Camera. What it is an attachment to your laptop which uses a camera and a battery powered pen so it knows where your touching. With it, you can now touch icons for opening, writing, and drawing.
In addition to the touchscreen feature, the Touch Screen Camera can be used like a webcam. Not bad for a product that costs only $43.