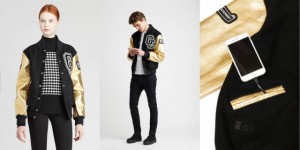 In case you are wondering, the OC stands for Opening Ceremony. They are a company that has teamed with mophie to create a very interesting varsity-styled jacket. Of course, this is a tech blog and not a fashion blog, so why should this OCX matter.
There is a charger within this jacket that allows you to charge your phone. This charger is compatible with iOS and Android devices, and it looks like you can charge the phone while it is in your pocket. Hopefully, that means you can charge it while you are not using it.
Unfortunately, the Opening Ceremony X Jacketis only going to have 100 made. It is pretty expensive at $465, but I can't help but wonder why we don't have more of these kinds of fashions. After all, Marty McFly had an automated jacket that could dry him and adjust fit, and that Back to the Future II movie was supposed to take place in 2015.