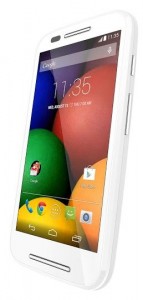 Every once in a while, a smartphone comes out that changes the market forever. The Moto E probably isn't that phone. Yeah, seriously, I'm not exactly seeing anything new here, but then again, I think it might be a while before that happens.
This is not to say that the Moto E is a poor or even mediocre phone. The truth is it has some very terrific features like a Gorilla Glass scratch resistant 4.3 inch display and 1.4Gz Qualcomm Snapdragon 200 processor. It comes with Android 4.4.2, aka KitKat right out of the box, and includes a guaranteed upgrade so you can "get the best Android experience all the time". I don't know if that means that you'll get the latest version of Android each time, but it really should be a standard plan for any Android phone.
In addition to those big selling points, it also has a microSD memory card slot, integrated FM radio, and a 5 Megapixel rear-facing camera. Now here is one of the best features: it is $129 without a contract.
Okay, I would love to see how this phone will hold up in the market one year from now. We'll peek in on that later.