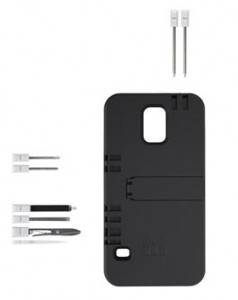 Our smartphones can really do a lot of things, but if you have to tighten a screw, there is no app for that. The IN1 case is like a Swiss army knife for smartphone cases, and it really is quite cool.
Within the IN1 case are small versions of a blue pen, red pen, flathead screwdriver, Phillips screwdriver, nail file, tweezers, scissors, and toothpick. Now, you can flick those out and use the phone and its case like a Swiss army knife, but the individual tools can be taken out and used in a time of need.
In addition to this, there is a Kickstand feature in case you want to watch video on your smartphone. What is interesting is that the IN1 website states that the IN1 case is TSA compliant. I have no idea how true that is, but I'm not certain if I want to try bringing it on a plane.
You should be able to get these IN1 Cases on the website for the iPhone 5, iPhone 6, iPhone 6 Plus, and the Samsung Galaxy S5.