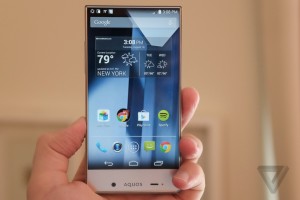 Sharp Aquos has a new smartphone that they announced today that could start a new standard with smartphones. Why? It has almost no bezel.
Seriously, it is a 5-inch 720p edge-to-edge display. My Source seems to compare this science fiction devices, and maybe it is the lack of bezel that does it. This Aquos has Android 4.2.2 KitKat and has a gesture-based screenshot known as App Pass.
Other features are 1.2 GHz quad-core processor, 1.5 GB of RAM, and 8GB of storage. You should be able to get it for $239 without contract.
By the way, I have terrific news about Sprint. They have ended the Framily ad campaign. Thank you. I was sick of the dad hamster in a ball with the cowboy son and the French-speaking daughter. That was freaky weird, and I hate it. This phone I like.