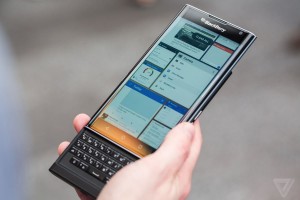 There are certain companies that seem like they shouldn't be around like Nintendo and now BlackBerry. It looks like BlackBerry Priv is an Android phone that could change that.
Apparently, BlackBerry has to sell 5 million of these in order to stay in the consumer handset business. It has a screen that slides up to reveal a keyboard, which is kind of passe when it comes to the smartphone. This keyboard is really made to work with the Android operating system, which is normally rare.
The screen is a 5.4-inch curved AMOLED display with a resolution of 2560 x 1440. The processor is a Snapdragon 808 with a 3 GB of RAM and 32 GB of storage. The battery is pretty big at 3,410 mAh. There is also an 18 Megapixel sensor with Optical Image Stabilization and dual-LED flash.
So there is a lot of pressure to make this to make this Priv work. I would love to try it out, but I'll have to wait another day.