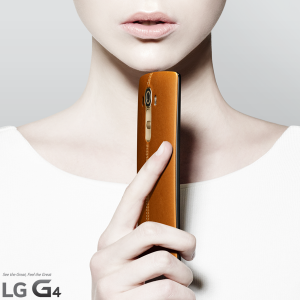 It seems like I can't stop reporting about the LG G4, the company's flagship phone and follow-up to the popular LG G3. We have already reported on the company's official debut on April 28th, which means we had an announcement of an announcement, or something.
Now I am getting some interesting news saying that the LG G4 release date is going to be on May 31st. The information comes from a Korean website, which means that the LG G4 might make its way around Korea before it comes to the states.
One thing to notice is that it will have a carbon-like front and a leather back. The Leather is something of a new touch, as this hasn't been a part of the rumored specs. For example, it is rumored to have a 5.5 inch Quantum Display LCD display, possibly QHD resolution, not to mention a battery of 3,000 mAh and microSD slot. Then there is the 13 Megapixel Camera or 16 Megapixel camera, but we have heard that there will be a f/1.8 camera with an infrared color accuracy sensor.
There are a lot of colors available on the leather look. I suppose that we'll have to wait until the end of the month to see what the LG G4 really has in store, but perhaps you might like that little preview.