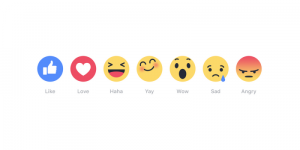 As many of you are aware, Mark Zuckerberg has been thinking about adding a "Dislike" button, but it isn't made for things that you don't like. It is actually made for situations where someone posts that their aunt dies or something, and you don't look like a sadist for clicking "Like" on that.
There is a possibility that Facebook could have options that you see in the image like the usual Thumbs Up, Love (stronger than Like), Haha (when you're into or in on the joke), Yay (when you really exuberantly like this), Wow (sign of being impressed), Sad (when you agree with the subscriber's sadness, maybe), and Angry (when you are angry with the subscriber's outrage).
I believe that this will be tested on Facebook users in Ireland and Spain, and if it works there, I'm sure this will be headed to every Facebook user. That's like billions, right? So this means that there will be many kinds of new Likes happening soon.