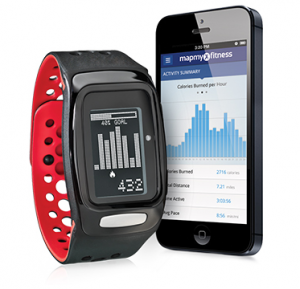 I have seen a lot of interesting products designed for fitness which are bands that link with Bluetooth to a mobile device. The purpose is to track one's workout with the appropriate app, like the Body Media band.
Sportline has come out with an entire product line of fitness trackers and activity monitors, and I had a chance to try out the SYNC Burn. It tracks the user's every move, and provides with an ECG accurate heart rate data and a truer calorie count. It also measures the steps taken and distance traveled.
It works with the iPhone 4 and 5, and you can sync it via Bluetooth to MapMyFitness app. From there you can track and monitor activities with views that can be hourly, daily, or weekly. Other features are a stop watch, water resistant, and a one year battery life.
I did found the SYNC Fit on Amazon for about $65.00. As for the SYNC Burn, the MSRP is about $129.00. You can find out more about it here and it is available on Best Buy right here.