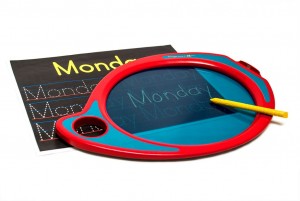 I have reviewed Boogie Board products before, which is made by Improv Electronics. They have now created a new product known as Play n' Trace.
The Play n'Trace is a translucent LCD writing surface, which allows the user to trace something onto it. Yes, it is not really made for adults, but for kids.
I am assuming that it will work like the first Boogie Board as you can draw on it, and then hit a button to erase it. Yeah, it doesn't seem to save the drawing like the 9.7 LCD e-Writer.
I think this might be a terrific gift, particularly a stocking stuffer, assuming that you can fit it in a stocking. It costs about $29.99.