Needing an extra light when you are taking a selfie with your front facing phone camera? Is your tablet missing a flash? The iblazr can help with that!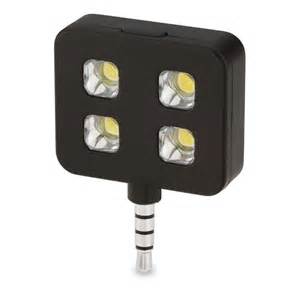 When testing it out on my Samsung Galaxy S4, I had some problems getting the free iblazr companion app to work. The answer given to the similar reviews in Google Play was to download the Shotlight app(also free). Unfortunately, I did not have the room on my phone to do so. I did download it to my LG tablet, and found the program to be useful with the ability to adjust iso, focus and exposure. I found that I couldn't get the iBlazr flash to go off automatically when I wanted to take a picture. I had to push the button on top of the flash to turn it on and adjust the brightness. The video below shows how you can adjust the brightness from your phone.
Iblazr is supported on iPhone, iPad, and Android devices. The 1 x 1.25 in device weighs 10 grams and easily plugs into the headphone jack on your device. It can shine as bright as 270 Lux while used as a flash on the phone, and has the ability to be dimmed. It will flash 500 times before you need to recharge it. Charging USB cord, small stand and soft case included. The original iblazr can be purchased on Amazon.com for $34. On the iblazr shop, you can buy it for $39.99. There's also a premium aluminum one for $10 more. They now have the 2nd generation iblazr2 available for pre-order also.