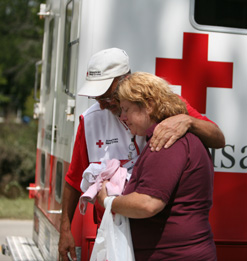 Thoughts and prayers are all well and good. They often offer a sense of doing something in a time of not knowing what to do. When people are trying to rebuild after a natural disaster of this magnitude, however, thoughts and prayers aren't going to help them. So now is the time to help. What can you do? What are scams to look out for, and what should you NOT do?
There are many charities accepting donations. American Red Cross, Salvation Army, and United Way are probably the more well-known charities. They have made it easy for people to donate.
To donate through American Red Cross, you can simply text HARVEY to 90999, and $10 will come out of your next cell phone bill. Redcross.org allows you to donate on their website as well, or you can call  1-855-999-GIVE. Of course, they are always taking blood donations as well, which is needed during these kinds of disasters.
You can also text UWFLOOD to 41444 to donate to the United Way Flood Relief Fund, and donations to support The Salvation Army's hurricane relief efforts can be made at helpsalvationarmy.org.  1-800 SAL-ARMY is the number to call for them.
Be careful of scams, though. E-mails should be approached with caution, and there are chances of getting viruses from visiting websites. Scams can also come over the telephone. Find the reputable ways to give through sites that rate charities such as Charity Navigator, GiveWell, and Better Business Bureau.
Many charities prefer that you send money, as opposed to donations of clothes and such- as it can tie them up in sorting things out, and they have a better idea of what is needed. Some charities may have lists of items that they are accepting, so check with them before giving actual items.
If you are able, check local charities for ways to volunteer and give physical help- as that is always needed.
Tonight on all the major network channels such as ABC, NBC, CBS and FOX, and even Premium channels like MTV, Oxygen and HBO, a one hour telethon will be happening to benefit the victims of Hurricanes Harvey and Irma. Guest appearances from celebrities include: George Clooney, Barbra Streisand, Julia Roberts, Beyoncé, Jamie Foxx,  Rob Lowe, Matthew McConaughey, Dennis Quaid, Oprah Winfrey, Blake Shelton, Reese Witherspoon, Karlie Kloss, Matt Lauer,  Norah O'Donnell, Kelly Rowland, Adam Sandler, Ryan Seacrest, and Michael Strahan. Check your local listings for start time.