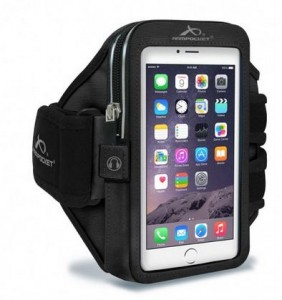 I've reviewed a lot of Armpocket products before, like the i-35 Armband and the Nighthawk. They are designed to fit on the arm with a strap. I finally got a chance to try out the Mega i-40 Plus, which is designed for the Galaxy Note 4 and the iPhone 6 Plus.
Yes, the Mega i-40 Plus is designed for the larger phones. Fortunately, there is a double zipper enclosure which will keep the phablet from sweat, weather, and not slip. This is not bad.
Also, if you have the a desire to use your choice phablet like a big watch, you can do that through the transparent cover to access the touchscreen. The problem is, the headphone ports and accessing the pen will be problematic.
I recommend it for anyone who wants to keep a computer on your wrist. This is how I see this thing, as I don't believe it is good for your upper arm while you are jogging. This is because of the location of the headphone ports. I noticed this problem with the i-35, and zippers don't really improve on that. This is strange, because the website has a
In addition to this convenience, it has some pockets inside for credit cards. If you want it, you can get it on the Armpocket website for about $49.95.