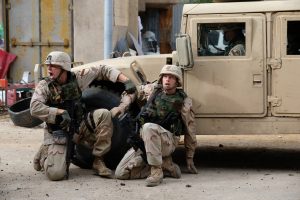 As we enter the week of Veterans' Day, there is a wonderful opportunity to see stories of what soldiers and their families have experienced as the war in Iraq transpired. Martha Raddatz, ABC News correspondent in foreign affairs, had a unique opportunity to follow the soldiers and write the best-selling book, The Long Road Home, which inspired this                                                                                         eight part mini series.
I had the privilege of receiving a truly wonderful press kit, along with a dog tag USB that contained the episodes to preview. The series follows real life events that soldiers experienced on Black Sunday in April 2004, when a platoon of American soldiers was ambushed in Sadr City, Baghdad. The initial ambush and the 48-hour rescue mission caused 8 deaths of Americans and more than 60 injuries.
The show has a feeling of movies like Saving Private Ryan and Pearl Harbor. Watching it brings all the emotion of what it would have been like to have been there and experience the traumatic events that the soldiers faced, as well as what the families of the soldiers went through as they waited to hear news from them.
Jason Ritter is an actor in the miniseries. You may know him as the son of John Ritter,  an actor in the tv series Parenthood, and currently the star of Kevin (Probably) Saves the World. He plays the role of Troy Denomy. Another son of a famous actor, Patrick Schwarzeneggar, plays Sgt. Ben Heyhurst. Other cast members include Michael Kelly as Lieutenant Colonel Gary Volesky, Kate Bosworth as Gina Denomy, and Sarah Wayne Callies as Leann Volesky.
Martha Raddatz says of her experience talking to the soldiers:
"I have been a journalist my whole life, really. I've done some amazing things, and I've been to extraordinary places. I have been in a backseat of an F-15 on a combat mission. I've been in the streets of Baghdad. I've been a moderator at presidential debates. There is nothing that has been more meaningful in my career than this story, and not just because of the story itself or the interviews I did, but because I've maintained the relationship; because these guys are my brothers and their spouses are my sisters. And for me, it was the first time I had heard those stories of the Iraq War so closely. And to hear Staff Sgt. Robert Miltenberger — a tough soldier who I thought kept it all in — to hear him talk about what had happened to him with such emotion and such power was remarkable. I had talked about war. I had read about war. But I had never seen it in that way. I had never truly seen the human toll and how much these men were carrying with them, and how much it changed them. They changed from men in a minivan the week before to real warriors."
The Long Road Home airs its introductory two-hour episode tonight on the  at 9/8 c. I highly suggest it as a must-watch.
Here's a trailer: