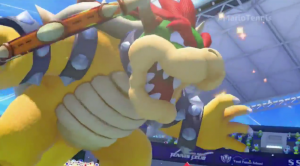 Okay, you might remember as I talked about what Microsoft and Sony doing at E3 2015, but if you noticed, I didn't mention Nintendo. I believe that those two companies had their press conferences before E3 2015 officially began, but it looks like Nintendo didn't start maybe later.
Now, I have already said several times that it is possible that Nintendo's days could be numbered with the non-success of the Wii U plus, darn it, there really should be a new Zelda game out now. I saw an article that I couldn't find later about how Nintendo was kind of shamed at what they had on display at E3 2015.
That being said, here's what they had to offer:
Super Mario Maker: I guess there will be some kind of Mario game that you can construct.
Amiibo comes to Skylanders: This is an odd move, but the Amiibo plastic figures will be for Skylanders for the Wii U and that includes a "Magma" version of Bowser that breathes fire.
Starfox Zero: Well, I knew that a new Starfox game was coming to the Wii U. It should be pretty good.
Animal Crossing, Happy Hoe Designer: Yeah, it is coming.
The Legend of Zelda: Triforce Heroes: Man, we can't get a Zelda game for the Wii U, but for some reason, the 3DS is giving us a multiplayer dungeon-crawler based on the Four Swords spinoff series.
Metroid Prime Federation Force: Yes, it looks like Metroid is making a comeback, at least on the 3DS.
Yoshi's Woolly World: This is a game where Yoshi lives in a world of yarn and comes out in October for the Wii U.
Mario Tennis: This is a game also coming to the Wii U this Fall.
Well, as you can see, there is no new intellectual property from Nintendo, which means that this company really rides on its laurels from past successes. I'm glad they have Splatoon.