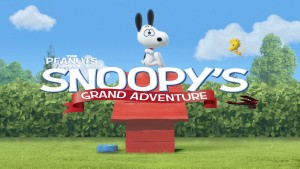 So, you see Snoopy's face and how surprised it is? Well, it's because he's amazed that we are reviewing this game, which came out over six months ago, right now. Yes, I like to review the latest in gadgets and technology, but it just so happens that this game went on sale cheap.
As you might have guessed, this game is meant to tie-in with The Peanuts Movie. For some reason, a lot of hit movies think it is standard procedure to come out with a video game based on the film. These games are notoriously not very good, and lack originality because you know some programmer just had to come up with a Peanuts game.
I love all things associated with Charlie Brown and Snoopy, and this game has Snoopy in the center. I would think that from the box art, which shows Snoopy on his dog house ready to fight the Red Baron, so this will be a flying game.
Actually, it is more of a platforming game, and it is just great to be Snoopy. Like most platformers, you can jump and jump, and Snoopy's propeller ears can take him some cool places.
Most of the conflict is just getting jellybeans because apparently there is hide-and-seek thing going on with the Peanuts gang, and Charlie Brown has a box of jellybeans that are leaking. Yeah, it is a pretty weak premise, as Snoopy goes through worlds based on the Charlie Brown characters that probably could have been done a little better as far as style is concerned.
This is one of those games where you should collect everything, which includes 300 jellybeans per level along with 6 Beagle Scouts (Woodstocks). So, there is some flying action, but honestly, the platforming is the fun part. Also, Snoopy can have these forms that make the game pretty fun.
I'm going to recommend Snoopy's Grand Adventure, as it is a fun game that is getting seriously slashed now.