There is no place like iHome, and honestly, I can't believe that isn't an official company slogan. Just to let you know, they have a great booth at CES, and you need an appointment to get in. I've been to CES ten times, and they have actually stopped me at the door twice. Real shame, because I love seeing their products, and we reviewed a Bluetooth Wireless charging alarm clock. Today, we will be reviewing two of their new products with the iBTW281 and the iBT
iHome iBTW281 Color Changing Bluetooth Alarm Clock with Qi Wireless Charging Review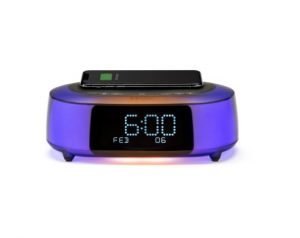 One thing that really put iHome on the map years ago was the hug iPod dock market from a decade or so ago. Naturally, they are still making these alarm clock type products, and the iBTW281 color changing Bluetooth alarm clock has some serious benefits.
For one thing, it has the color changing ability with 7 color changing modes in order to wake up to 8 different wake-to modes. In other words, you can enjoy the great colors while you are trying to sleep, or while you are trying to wake up.
In addition to its chameleon like ability, you can charge up your smartphone via Qi technology. All that is required is simply putting that Qi enabled wireless charging phone onto the unit itself, and there is a USB port for charging something else if you want to.
Oh yes, it is also a wireless speaker that you can pair with via Bluetooth. You can also connect so you can access Siri or Google Assistant. You can purchase the iBTW281 on the iHome site for about $79.95.
iHome iBTW20 Dual Charging Bluetooth Alarm Clock with Wireless and USB Charging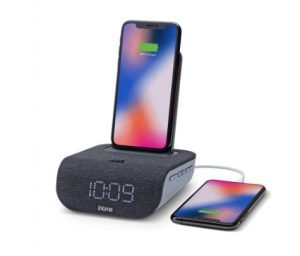 This iHome iBTW20 product also has another name called the TIMEBASE, and it certainly takes up a whole less amount of space than the aforementioned iBTW281. It might not change colors, but it does have that wireless charging thing going on.
Oh yeah, I really like the way that it allows your phone to stand up in portrait mode, and there is also a USB port on the back so if you want to charge your…I don't know, Apple Watch?
And what kind of alarm clock would it be today if it didn't have a Bluetooth Speaker ready to be paired upon it? Well, this has it, and since it has your phone on it, it is good for some speakerphone action.
You should be able to get it on the iHome site for about $59.95 (marked down from $69.99).