Yet another iHome product has come across our desk. This one is similar, yet different to other iHome items we've reviewed. It does play music through Bluetooth, but it also acts as an alarm clock, wireless charger, and speakerphone in one!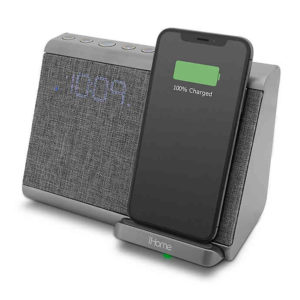 We're looking at a 2 pound, 7.1 x 4.1 x 5 inches device in gun metal. It can wirelessly charge Qi enabled devices in either a horizontal or vertical layout. This means you can watch movies on your phone while it wirelessly charges, and have it right next to your bed. You can wake up in the morning to music or one of four built-in alarm sounds, and everything is right there! Just like the speaker we just reviewed, there is a Smart Home button to control many of the popular Smart Home devices.
The one thing that seems to cause issues is that the snooze button is located under the cloth above the clock display(which can also be brightened/dimmed with the same button). This can make it difficult to manipulate, and I wonder why they created it that way.
There are other handy features, like the Sure Alarm with back-up batteries that will provide power in case of an outage to make sure you still wake up. There's also another port to charge other devices with a cord(not included).
$79.95 is the price of this particular device on Amazon.com. This review was unbiased and fair. No compensation was received, with the exception of a free product for review purposes.