Why iOttie…okay, I got that stupid joke out of the way. Like I have said before, it has been a while since we reviewed an iOttie product, and now we get to review two new ones.
iOttie iON Wireless Go Wireless Portable Battery Pack
I suppose that I could just oversimplify this review and call the iON Wireless Go a mobile battery, and that is what it is. It is small for something that holds 10,000 mAh and it has an output of 18W.
Oh, I should probably mention that the iOttie iON Wireless GO has the power of Qi. Do I even need to explain what that is, or does every modern smartphone have the ability to charge wirelessly? I am told the iON Wireless GO can power an iPhone 11 3.2 times, an iPad (10.2-inch version) 1.2 times, and the Galaxy S10 2.9 times. By the way, most batteries have four LEDs to show battery life, but this the iON Wireless Go has a number from 1 to 100. That's kind of cool.
The iOttie Wireless Go powers with USB-C with an included cord, but it has a USB A port. It also has this cloth covering for no-slip on your mobile device. It is available in Ruby (Red) or Ash (Gray) on the iOttie site for $54.95.
iOttie Easy One Touch Wireless Wireless 2 Wireless Charging Car Mount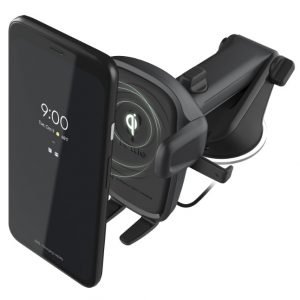 The iOttie Easy One Touch Wireless 2 is one of those devices made to hold your phone while you are driving, charge it, and make it possible so you can use the applications. It isn't completely wireless, as you have to attach the cable to the cradle and plug it into your car plug-in. Assuming that you have a Qi-enabled wireless charging phone, then you got yourself some power while you are driving.
The iOttie Easy One Touch Wireless 2 is so named for its one touch mechanism, which is a U.S. patented lock and release feature, which can spread out up to 3.7 inches. The neck can bend up to 225 degrees, and the Easy One Touch Wireless 2 has a very strong suction cup for either your windshield or your dash.
It is very handy for those who want to see their maps, listen to their tunes, or other safely non-distracting apps while driving. It can be purchased on the iOttie site for $54.95.