With new iPhones coming out and the recently released Galaxy Note 9, consumers are looking to protect their investments. Otterbox has been a trusted company by many to provide this protection. We got the privilege of receiving some of their cases and a screen protector to review.
Otterbox Symmetry Series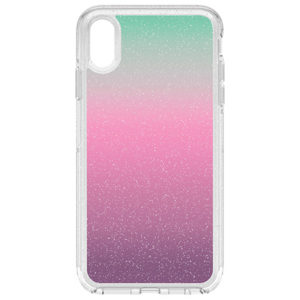 The Symmetry series provides cases in many colors and designs- too numerous to list them all. This particular case is called "Gradient Energy."
All of the Symmetry cases offer Otterbox Certified Drop Protection. They're easy to put on and take off. The cases are ultra-slim, so you can wirelessly charge and use Apple Pay.
Symmetry cases vary in price greatly, so we'll just tell you the prices of the cases we received to review. The iPhone XS Max case in Gradient Energy is $54.95. The same case for the Samsung Galaxy Note S9 is also $54.95. There is not quite as many styles and colors for the Note S9, though.
Otterbox Pursuit Series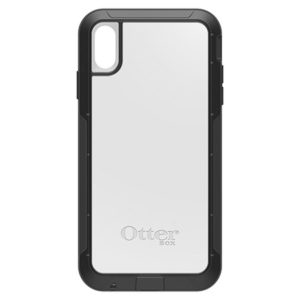 The Pursuit case is said to be ultimate protection. In addition to the sturdiness of the case, it also offers an ultra-thin design. It protects from dust, mud, dirt and snow. Good to take skiing or backpacking. This case offers enhanced audio and the ability to access the screen directly. There are port covers to keep unwanted materials out, but still provide access when needed.
This case also comes in various colors- including this clear one with the black edges. We received an all black one. There are other colors, too. $79.95 will purchase this case for the iPhone XS Max. Check out the website for more colors and device options.
Otterbox Defender Series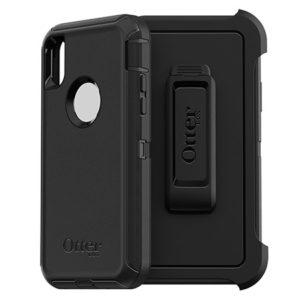 This case that we received for the iPhone X/Xs is the screenless edition. The multi-layer case offers great drop protection, and protects from dust as well. It comes with a holster that attaches to your belt with a clip. Otterbox Defender has been around for a long time. We even reviewed it back in 2012 on the iPhone 5! It still has the great reliability and standard you can trust. Different colors and cases for different devices will bring different prices, but for this particular case- $49.95.
Otterbox Alpha Glass Screen Protector
Otterbox screen protectors are cut precisely for their cases. If you get an Otterbox cases, you will probably want to get the screen protectors made to go with them. The Otterbox website offers a discount when the screen protector is purchased with many of their cases.
The protector is reactive to touch and fortified to protect from splintering and shattering. Most important is that the screen below doesn't get damaged. The Alpha Glass protector for the Samsung Galaxy Note9 is $44.95. It wraps nicely around the edges to get that edge protected. It comes with edges for the top and bottom of the note 9, and some cleaners. Glass protectors really need to be placed carefully.
This wraps up our review of Otterbox products. Thanks to Otterbox for sending us these to review free of charge with no other compensation in exchange for our honest and unbiased review.