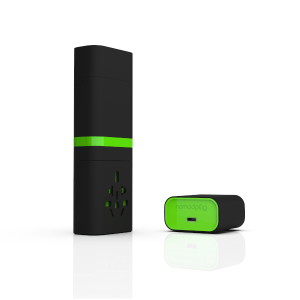 When you are traveling in other countries, you might need different adapters to charge your devices and plug in your hairdryer. There are 195 countries that this device will help you in(which is every country).  The Nomadplug is the only travel adapter you will ever need.
This adapter is not the world's smallest as we've reviewed before. It is still sleek and compact for travel. It also has fast-charging capabilities and allows for plugging in more than one device at a time. There are two USB-A ports and one USB-C port that can be used at the same time. You also get an 18 W USB-C PD charger built in this gadget.
This thing is also stylish. Choose from six different colors- lime, arctic, tangerine, mint, cherry, and magenta.
The Nomadplug costs $76.44. This is a great deal- considering the built in power bank. The one thing that is a downside is that it doesn't work for 3 pole plugs. You can buy it on the Nomadplug website.
We received this product to review for free. We were not paid for our fair and unbiased analysis of the Nomadplug.