We are no stranger to AUKEY products, and we had quite a good time reviewing them last time right after CES 2020. This time, we have four different wall chargers, and we are about to get underway.
AUKEY 18W PD Wall Charger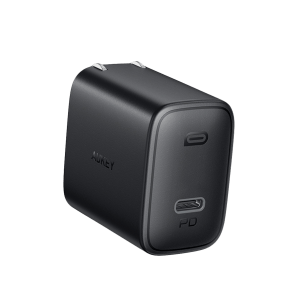 This particular one is a USB-C on a wall charger, and I have it connected to my phone right now. I do not have an iPhone, but I am told that the AUKEY 18W PD Wall Charger can charge an iPhone 11 from zero to fifty percent in just a half an hour.
So, yeah, this has the fast-charging going for it, and is good for iPhone 8 or later. It also can do Google Pixel 3 and up, plus the Nintendo Switch. I am also surprised that it took me this long to mention this, but the 18W PD Wall Charger has a great form-factor with foldable plug.
If this sounds good to you, you can purchase it on the AUKEY site for $19.99, or on Amazon for a discount.
AUKEY 18W Power Delivery Wall Charger (Minima)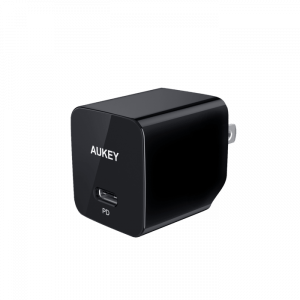 Sometimes, when I get a product, I have a hard time finding it online later. In the case of this AUKEY 18W Power Delivery Wall Charger, I believe it is this one also called the Minima.
This one allows for charging more recent versions of the iPhone, and it can charge one like the iPhone 11/XS/XR from zero to sixty-five percent in a half an hour. So that is an improvement, and it can do compatible USB-C devices.
It also has the form factor with foldable plug, and I don't know whether I mentioned this, some built-in safeguards. It can be purchased on the AUKEY site for $22.19, and cheaper on Amazon.
AUKEY OMNIA Mix 65W Dual-Port PD Charger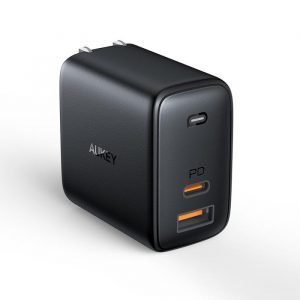 So this last OMNIA 65 Dual-Port PD Charger might be one that reviewed last time, but it is worth looking at again. This has an OmniaChip, which has some good GaN power for up to 3x faster charging with just half the size and weight.
The OMNIA also comes with Dynamic Detect, a USB-C port that can output 65W power on its own, and 45W when both ports are used. Oh yes, it has a USB-C and USB-A port. So it can charge pretty much anything, even 13-inch MacBook Pro and USB-C laptops.
The OMNIA can be found on the AUKEY site for $46.99, and then the usual discount on Amazon.
AUKEY Omnia 90W 3-Port PD Wall Charger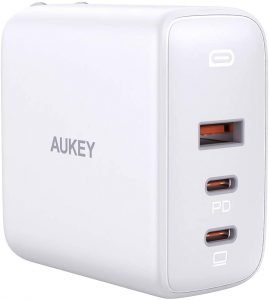 Okay, this version of the Omnia I know I have not reviewed, as it is a 90W 3-Port version. It has a USB-A and two USB-C ports, so it can charge…yeah, just about anything.
So that is good enough for the MacBook Pro or USB-C laptop or something. It is pretty much smaller than most chargers and is more efficient and eco-friendly as well. I think that it figures out how to charge your devices most effectively.
Now, I couldn't find this particular product on the AUKEY site, but I did find it on Amazon for $49.99.
Aircore 3-in-1 Wireless Charging Station Stand
Okay, I have actually just had to add this on to my review, because it kind of came after I reviewed all of the aforementioned wall chargers. This would appear to be a 3-in-1 station, and it is especially good if you are an Apple user.
You will note how it has a place for the Apple Watch, the Airpods, and the iPhone. Two out of three are rechargeable via wireless power, but to that power, you have to wind a USB cord through its underbelly. I believe that the video makes this clear.
About the only thing left to tell you are the stats like how it powers at 5W, and can go up to 10W. It also has the four handy LEDs for showing the charging status.
The Aircore 3-in-1 Wireless Charging Station is available on the Aukey site for $28.99.