While at CES 2020, TechnoMark ran into the Aukey company at Pepcom. This is the only time I have seen mention of this product on our site, but Aukey puts out a lot of charging accessories- including the two Dual Port wall chargers I am about to review.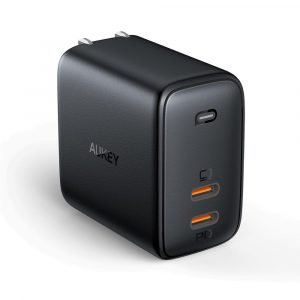 The first is the Aukey Omnia Duo 65 W Fast Charger. This small charger has enough power through GAN technology to charge a laptop and cell phone at the same time. It is small and portable, so you can take it anywhere. The prongs fold in to provide a truly compact way to carry when not plugged in. The wall charger is half as small as a 61W MacBook stock charger. The two ports for USB-C will give you some fast charging capabilities. Dynamic Detect is technology that gives you a full power charging for one device, and then will divide the needed strength to charge two items such as a laptop and a phone.
The charger comes in Matte Black, Matte White, or Glossy White, and currently can be bought on Amazon.com for $54.99
They also have the Omnia Dual Port USB-C Plus USB-A.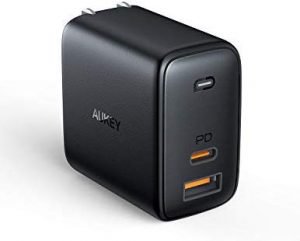 This is pretty much the same thing, except that it has a USB-A port. It also delivers 65 W of full power when one port is used on its own, or 45 W of power when used simultaneously. This one can also be purchased at Amazon for $46.99.
These wall chargers were given to us by Aukey for the purpose of our fair and unbiased analysis. No other compensation was given, and we are not sponsored by this company.