Once again, we are back with some more cases you can use to make your future Samsung Galaxy S10 a little more stylish and a bit more protected. These are cases from a company called i-Blason. This company is actually the same one that sells the SupCases we reviewed the other day.
Samsung Galaxy S10 and S10+ Cosmo Slim Designer Case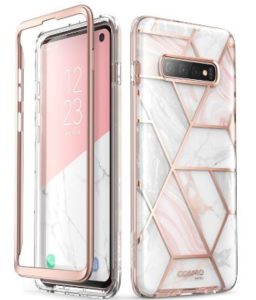 This case looks fragile and delicate, but it's actually very sturdy. The sleek marble design is printed on a scratch resistant surface, and is composed of a material that is drop resistant to 10 ft. and has cushioned, shock-absorbent bumpers. This style has full body coverage with a plate to protect the face of your phone. A screen protector is not included, though.
This is also available in a sparkly, purple design. Additionally, the S10+ also comes in a pink style. These cases are listed at the retail price of $25.
Samsung Galaxy S10 Plus Cosmo Lite Designer Case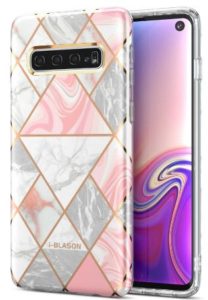 This case has just the one color for both phones, but it's still a nice marble look. As with the cases above, these cases have been drop tested and are sleek, yet sturdy.
These cases don't have the face plate, but there are still raised bezel edges that will protect the face of the phone from scratches.
There are cutouts for camera and ports, and covered buttons- just as above.
These cases are less expensive, and you can buy them for $19 on the iBlason site.
There are several other cases for the S10, but these were the cases we were given to review. You can check out the others here. No compensation has been given for our fair and unbiased analysis.