Okay, today we are back with Under Armor Gear (UAG) once again, and this time we are reviewing two products: The Magma for the iPad Air 2 and the Cobalt for the Surface Pro 4.
We'll start with the Apple product with a feather-light construction, as well as a soft core. Unlike the hard plastic case that I reviewed in Part 1, this one feels soft all over. It is soft everywhere but on the corners, so it looks like it can take a lot of hits. I believe that it is called Frogskin Technology grip, and that isn't all.
This is a Folio case, which means that you can stand it up for watching videos, but only in landscape mode. It has a magnetic strap that holds it closed.
In other words, it has the quality that you would expect for a UAG product. It can be purchased on the UAG site for about $49.95.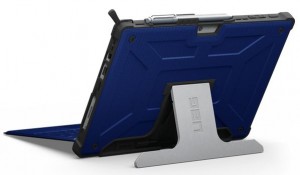 As for the Cobalt Case for the Surface Pro 4, I have to admit that even though it is made by the same company, it feels like a completely different animal. Instead of something that is soft to the touch, this feels pretty hard.
Part of it is the stand, which is completely metal and can go into 5 angular positions, and it can even work with a portrait view if you like. It also has a place to store the Surface Pen, and it is compatible with the Microsoft Type Cover Keyboard with multiple keyboard positions.
All in all, it has some serious Frogskin exterior non-slip grip, and meets the military drop standards as well. All in all, there is so much to like about this UAG product. I kind of wish some of this technology would be on the aforementioned iPad Air 2 case.
You can get this particular case on the UAG site for about $69.95.