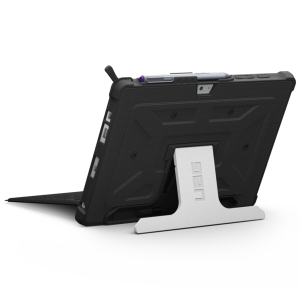 I have been wanting to review Urban Armor Gear (UAG) for a long time, and I finally had a chance to try out a few products. I'll start with the Scout for the Surface 3.
The Scout is made to be a back cover for Microsoft's tablet with a keyboard, and it is completely compatible with Microsoft's Type Cover Keyboard and multiple keyboard positions. On the back is an aluminum kickstand that is good for 3 angular positions. Now, the official site says that it is good for portrait views, but I could get it to work that way. I can't help but think that there is a hidden switch somewhere.
It does have a place to hold the Surface Pen, and it also has some interesting Frogskin Technology so you can get a grip on this when it is wet and slippery. By the way, it also meets military drop standards.
If you don't like the Scout in black, you can also get the Rogue in red here for the same price. The Scout is available here for $69.95.