It's been nearly a year since we've had any Zagg products to review, but we were able to get some just in time for Christmas. First we'll review the Zagg Flex Universal Keyboard. Then we'll talk about a couple InvisibleShield products.
Zagg Flex Universal Keyboard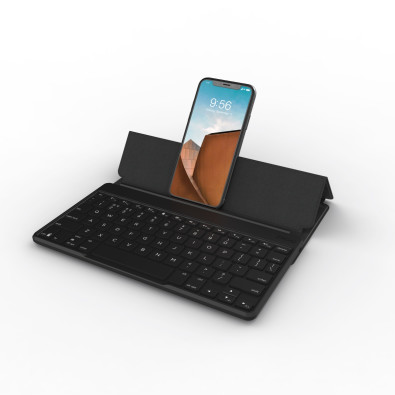 If you have a lot to type while you're on the go, you'll want to look at this keyboard that works with your phone or tablet. With a detachable stand that flexes in different positions, you have something to prop up your device to make it work just like a laptop.
Some cool features of the Flex Keyboard include keys that can be backlit in seven different colors. It can be paired with two different devices, so you can toggle back and forth from using your phone and tablet, or even smart TV. Seriously, it's nice to be able to surf the internet on the TV with a real keyboard and not just a remote control.
The keyboard is 9 inches in length, which makes it compact, but still easy to type on. The battery is long- lasting as well. You can go up to a year without charging it if you only use it for an hour a day and don't use the back lights on the keys.
The keyboard costs $79.99 and comes with free shipping from the Zagg site for new US orders.
Check out this video to see it in action:
Zagg Invisible Shield + Anti-glare
For $44.99, you can protect the screen on your iPhones XR, X/Xs, and Xs Max. Along with the protection for the screen, you can avoid annoying glares on your screen.
The screen is easy to apply. It comes with the EZ Apply Tray, instructions, a microfiber cloth, cleaning wipe, and a dust removal sticker.
Here's a video that shows you exactly how:
Zagg InvisibleShield Glass+ VisionGuard
Also for $49.99, you can get the option to protect your vision with the technology to screen from harmful blue light that causes eye strain. This shield uses Eyesafe® technology.This technology also preserves the true colors of your screen.
This protective screen is available for the same iPhones as the Anti-Glare, and also available for the Google Pixel 3 and Google Pixel 3 XL.
Both screens come with a Limited Lifetime Warranty- good for as long as you own your phone.
Thanks to Zagg for providing these products for us to review at no charge in exchange for our honest and unbiased analysis.