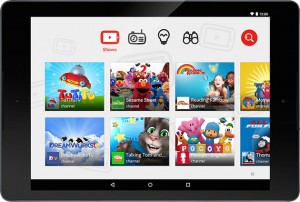 Well, I think we all know that Google owns both Android and YouTube, so it stands to reason that they have created a YouTube app for Android devices, for kids! Oh wait, it also delivered this kid-friendly YouTube app for iOS devices too.
Considering that my kids spend a lot of time watching YouTube videos, it stands to reason why they would do this. It is full of age-appropriate videos, channels, and playlists. The application has big buttons for easy scrolling and one-touch fullscreen.
The videos included are for Sesame Street, Thomas and Friends, and Dreamworks. Many of them are educational with music, science, and so forth.
By the way, parents will like how they can quickly notify YouTube to see if there is anything questionable from the application. That is right, there are parental controls and all that.
Again, I have to question YouTube's reason for creating a channel for kids, because I thought YouTube was supposed to screen out non kid-friendly stuff. In other words, one of its biggest audiences is getting some kind of specialty market.