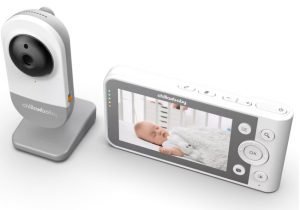 Okay, I'm always pleased to review one of these terrific baby monitor products, and with a name like Chillaxbaby, from a company known as ChillaxCare, I had to give it a shot. Fortunately, that's what I got a chance to do that with the Daily Baby Set.
I found the setup was very simple, as I have reviewed a baby monitor that worked right out of the box, like that one product from Hubble. I had to admit, I had a little bit of trouble when I plugged in the Chillaxbaby. I plugged in the camera, and then I plugged in the screen device, and I kept getting some kind of alert. I'm not certain what I did, but I was able to get a picture.
That picture can be made better with the infrared night vision, and it allows also helps hearing with a hi-sensitivity microphone. Yeah, this thing is full of features as it has room temperature monitoring, not to mention some prerecorded nature sound and lullabies. There's also these buttons that can track feedings and diaper changes, and you can also add a micro-SD card for up to 32 GB of storage.
Another feature is this Wi-Fi privacy switch that can convert the baby monitor between a smart Wi-Fi monitor or a non-connected monitor. Oh, I'm sure that you are not surprised by this, but there is a ChillaxCare App for live video streaming, motion activated recordings, and much more.
If this is something that you want and need for your baby, head on down to the ChillaxCare website and pay $149.99 for it.