We have another wireless earphone review to do today. These earphones are the Optoma Nuforce BE2- the least expensive ones on the line of NuForce earbuds. Still, these are good quality for the price. We have reviewed several similar earphones in the past. The last pair reviewed were the Outlier Sports earphones, which are comparable.
What's in the Optoma Nuforce BE2 box?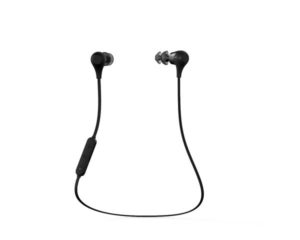 When you open the box, you'll find
BE2 earphones
1 pair of medium SpinFit TwinBlade tips (pre-installed)
3 pairs of single flange silicone tips
microUSB cable
Optoma Nuforce BE2 Battery
The battery for these earphones take just two hours to charge. One charge will last up to 10 hours. That, of course, is depending on your usage. Like any other device, the higher the output level, the quicker the drain on the battery. The battery on the Outlier Sports boasts an 11 hour charge, which is only slightly more, but 10 hours is a good amount of time.
Optoma Nuforce BE2 Comfort and Build
The BE2 earphones have a thin-flat line, which holds the wireless mic similar to the Outlier Sports. They lay nicely around the neck and have a little cinch thing-a-majig in the back to pick up slack. The buds are magnetic for security around the neck when not in your ears.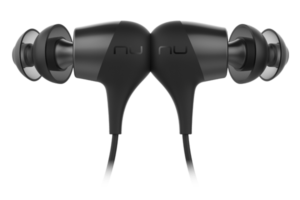 In your ears, the SpinFit TwinBlade® ear tips are made to fit snugly in your ear and give noise isolation. They are without the little hooks that other earphones come with to hold them tight in the ears, but these ear tips seem to hold pretty well. Other sizes of silicone tips can help those with different ear sizes- also serving to allow some noise in.
These are also built with a rating of IPX5. You can not fret if you are wearing them during a workout. They are resistant to water, sweat and dust. Still probably don't want to take them for a swim, but good value for what they are.
Other features of Optoma Nuforce BE2
Frequency response: 20Hz to 20kHz
Sensitivity: 100±3DB AT 1K HZ
Power supply: Lithium-ion battery
Connector type: Bluetooth Wireless
Cable length: 580 mm
Driver unit: 6 mm dynamic
Impedance: 16 OHM
Connections input: Bluetooth V4.1
Supported codecs: HSP 1.2, HFP 1.6, A2DP 1.2, AVRCP 1.4, AAC, SBC
Wireless frequency: 20HZ-20KHZ
Operating range: 33 FEET
Compatibility: AAC
Weight: 0.5 ounces
Final thoughts on the Optoma Nuforce BE2
These earphones are great for those in need of an inexpensive pair of wireless earphones. For $50 USD, the value is something we could recommend. You can buy a pair for yourself in either the black or white color through online retailers like Amazon, Best Buy, WalMart, and others.
Thanks to Optoma for sending us these to review free of charge. Our usual disclaimer- no compensation was given for our fair and unbiased analysis of this product.