Some of you might remember when we did that review of an ESR case for the iPhone 14/13 with its cool HaloLock. I had some interesting time visiting their booth at CES 2023, and they have some interesting products, and I now have the opportunity to review two of them.
Our Review of the ESR HaloLock 3-in-1 Wireless Charger with CryoBoost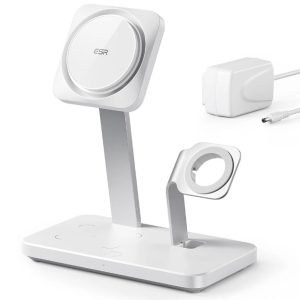 With this ESR product billed as a 3-in-1 wireless charger, then you probably know what three things are ideal for it. That is, the big three from Apple with the iPhone, the AirPods, as well as the Apple Watch.
So yes, if you have a MagSafe or HaloLock case, you can just set your iPhone on the slanted area right there, and you'll get yourself some charging power. You will need to mount your Apple Watch charger on this thing, but from there, you will get some great power. Then you can just put down your AirPods on the charging base below.
If you want to get in on this thing, I would highly suggesting heading to the ESR website and paying $79.99 for it.
Our Review of the ESR HaloLock 10,000mAh Kickstand Wireless Power Bank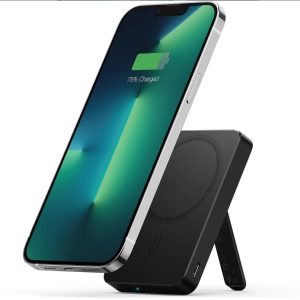 If you haven't quite figured out what this is yet, I will spoil it and say that it is a charger. Sure, we've seen them before, and this one has a really cool kickstand.
It is compatible with any iPhone with a MagSafe or HaloLock case, and it will snap on to your magnetic backing like…a magnet. It's good enough for about 10,000 mAh worth of power. Oh, and if you are charging something while watching a video, you can just prop up your favorite phone with the kickstand.
Does something like this sound good to you? It certainly sounds great to me. You can get it on the ESR website for a price of $59.99.