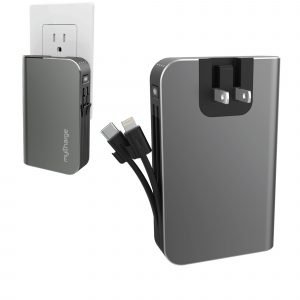 I thought it was a while since we have reveiwed a myCharge product, but, as it turns out, it wasn't too long ago. As it so happens, it may have been this myCharge Hub Turbo that we reviewed back in February 2020, back before the world went to COVID-19.
I am going to assume that there have been improvements to the myCharge Hub Turbo, as it says that it is 75 percent faster. I don't know if that means that this particular battery charges faster, or if it charges devices faster.
Whatever the case, it is probably good to have something like this. After all, if you have an iPhone and another USB-C-enabled device, you have two cables that are ready to be used for charging what you need. To charge the myCharge Hub Turbo, all you need to do is flick out the prongs and plug it into the wall.
The fact that it is good for 18W is great, and the fact that it is 6700 Mah is another bonus. If you want to get in on this, head over to the myCharge site and lay down $79.99 for the 6700 Mah version, and $99.99 for the 10500 Mah version.