It's been a little while since we have reviewed a Scosche product, but today, we are going to do two. Originally, it was going to be just one, but we managed to snag ourself another one at CES 2023.
Our Review of the Scosche MagicMount Pro Charge5 Dash/Vent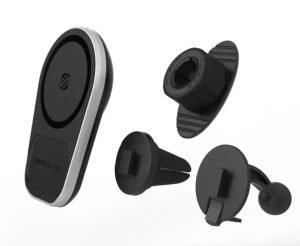 This is the Magicmount Pro Charge5 Dash/Vent, and it is made to be put on the slats on the airvent. It is a good place to mount a charger, and we have reviewed other products that do the same.
Of course, it is occasionally good to have your phone in front of you, as you can use the maps program for unsure trips. It also helps to keep your phone charging, and you might as well use that MagSafe funciton.
Now, if you don't have an iPhone with MagSafe, but you have some Qi enabled phone, you can still use this. All that is required is to use this included metal strip which is good for 15 Watts of fast wireless charging action.
If you want this, get the MagicMount ProCharge Dash/Vent on the Scosche site for about $59.99.
Our Review of the 30W USB-C Home and Car Travel Fast Charger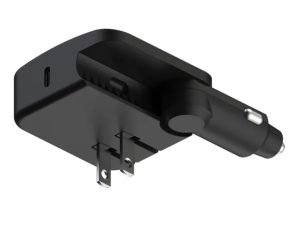 Of course, all of us need to have some more power on our phones, like all the time, so it is natural that we would require something like the 30W USB-C Home and Car Travel Fast Charger.
As you can see, this guy has a 12V DC outlet that you can plug into your car's cigarette lighter/charging port. You can then plug it into the 110V AC wall outlet.
From there, you can have USB-C power delivery that can power just about anything. I mean, it can do phones, tablets, laptops, cameras, and much more!
If you want this Powervolt Travel 30 Wall and Car Travel Charger, head on over to the Scosche site and pay $44.99 for it.