It's been several years since we've reviewed a baby monitor. We've reviewed various security cameras, and this product from EUFY is similar to what I've seen, but it also has some nice features. So without further ado, the Spaceview Baby Monitor.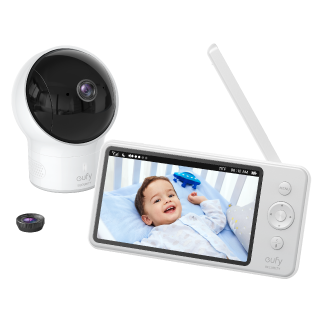 Spaceview Baby Monitor and Camera Features
The Spaceview Baby Monitor is a very futuristic looking device that keeps watch over your little one while you are not in the room. It consists of the Spaceview Baby Camera that gives you a 330 degree view of the room. It has a 110 degree vertical tilt to allow a view from down low to up high. A wide angle lens is included to give you the option of a wider view if you'd like. A 720p resolution gives you clarity that other baby monitors don't have. There is also the 2x zoom feature.
The Eufy Spaceview Baby Monitor itself has some great features. A five inch screen allows you to see more of your precious baby. A mic and speaker are built into both products so you can have two way communication.
A smart alert allows you to set the volume at which you want to be notified if attention is needed. This is great for parents who don't want to be woken up for every breath and movement. Also, you can see what the temperature in baby's room is at all times. This monitor has a long lasting rechargeable battery, so you can take it all over your house without being tethered to a power cord.
What's in the Box?
Besides the monitor, camera, and wide-angle lens, you also get a sturdy wall-mount to set the camera on. I wouldn't suggest the corner by the crib, though, as is pictured on the box. It has a cord running down, and when baby gets older, that thing will get tugged on.
There are plenty other options you could use for mounting, though. Two micro USB charging cables, mounting screws, 2 AC power chargers, and the usual instruction manual also comes in the box. The product is simple to set up, and you can use it right out of the box.
Should you buy the Spaceview Baby Monitor?
This high-tech gadget would be a great gift for future parents of little ones. The price tag is more than the average baby monitor at $169.99 on the EUFY site, but the security and craftsmanship is worth it for those who are seeking a high quality product.
Disclaimer- The views of this review are not influenced by the company in any way. We were sent a free model to review in exchange for our unbiased and honest opinion.