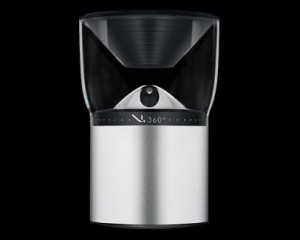 I'm going to be honest with you and say that I have been wanting to review the V.360 from VSN Mobil for a long time. In fact, I may have received it before CES 2015, and I was hoping to take it with me there. My plan was to film events with it, and then do a lot of videos that you could watch by dragging around a 2D video so you can view an event from all angles.
This would be my first time that I have actually done a hands-on review one of these things. I first saw something like it at CES 2013 with the Geonaute 360 camera, and it never surfaced. Now there were two similar cameras at CES 2015 that I had a chance to see.
When I first had a chance to try it, it told me to download and app. This was a few months ago, and I couldn't get the app to work with the lantern-shaped camera that you see in the image. Last week, I was going to see something cool and wanted it on 360 degrees, so I deleted the app that I had and downloaded it again.
From there, I had to charge the camera and have it sync with my smartphone. There were times when I tried to sync the camera and it didn't work, but when it worked, you can see the results here on a beta site known as Littlstar. Yeah, I couldn't figure out how to embed the video in HTML so you can see it here like I do when I normally do YouTube or other videos.
Just to let you know, I did a video of Palouse Falls. I even got a shot of someone asking me about the V.360 camera. That was a bonus. What wasn't a bonus is that I should have tilted the camera down so you can see the drop where I was. Yeah, that wasn't smart, but the only way I could see the footage was a weird ring-shaped window on my smartphone. I couldn't figure out how to do 360 degrees on my touchscreen without that weird ring-window.
You might notice that there is some weird fog on the video as well, and this is because I think the glass got fogged up. The video is at 6480 x 1080 HD, and it is possible to get some still shots in 8 Megapixels. The V.360 can do videos with time lapse options as well as a surveillance mode. Other features include Bluetooth 4.0 with an included remote control, WiFi for syncing with the camera, USB 3.0 charging, and a slot for a micro SD Card capable of 128 GB.
You should be able to purchase the V.360 on the VSN Mobil site for about $449. That might be a lot, but honestly, I think that 360 degree cameras are the wave of the future as we enter the realm of the Oculus Rift.