We did a review of a baby monitor in October from Eufy, but this time we'll be reviewing one from Safety 1st.  They are a company that is well known for baby related products. Here's a review that will help you decide if this is an item you want for monitoring the nursery.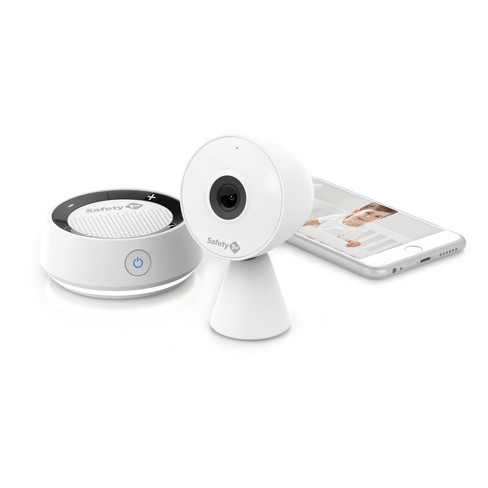 Safety 1st Wi-fi Baby Monitor Features
This particular monitor comes with an audio unit that has sound and movement detection. The camera records 720p HD crystal clear video with a 130 degree view, so you can see without panning the camera. It even records clearly at night with its 15 feet infrared night vision.  A free app you download will help you set up right out of the box quickly. If you need help doing so, there are videos on Youtube that are good for doing so. Also, there is two way radio, so you can hear your baby, and your baby can hear you.
The system is secured with a firewall chip. People may be familiar with the hacking that has happened on various baby monitors, but this one has the built in feature to protect against that. You can even allow caregivers temporary access to the system when you want them to have that.
The motion sensor and noise monitoring can send notifications to your phone or device that has the app. The sound sensitivity can even be adjusted so you don't have to be disturbed by every tiny peep made.
You also get free, secure Cloud storage.
What's in the Safety 1st Wi-Fi Baby Monitor Box
Camera
Audio parent unit
Power cords
Wall anchors and screws
Power Cord wall clips
So technically, you can use the rechargeable battery on this smart audio unit, however, it only lasts about 12 hours. Some people might just opt to keep it plugged in.
Purchasing the Safety 1st Wi-Fi Baby Monitor
Normally, this device would run almost $200 on-line. We found a deal on Amazon.com for $149.99. The lower price is similar to the Eufy price, so that would be a really good deal. We'd recommend a system like this for the new parents who need that security and want to capture their baby doing cute things when they're supposed to be in bed like
Note, this is not a Safety 1st camera, but you get the idea…
Disclaimer- The views of this review are not influenced by the company in any way. We were sent a free model to review in exchange for our unbiased and honest opinion.