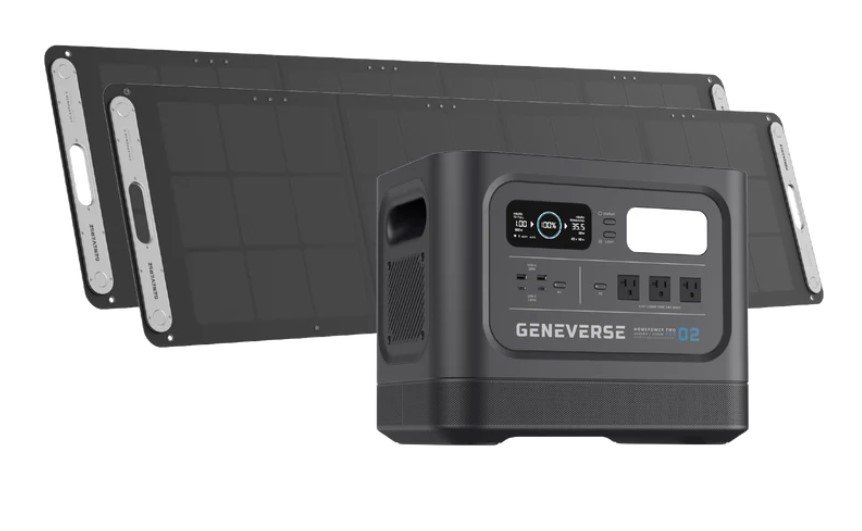 Introduction (Does It Do What It Should)
Okay, I hope you appreciate all the hype that I'm filling these particular products from Geneverse. This is not our first trip into the Geneverse, as we did see them at CES 2023. Hey, hey, hey, don't stop reading this because you watched that video! At least watch the video below, I mean, come on! Still, I was very pleased to review the HomePower TWO Series and the two solar panels, and even though you can catch most of the info in the unboxing, I still want to talk about it.
So yes, this generator is really powerful, and it is quite heavy at 59 pounds. I'll discuss the charging capability later, but in the front, you got two USB-A Qualcomm Quick Charge 3.0 ports and two USB-C with PD 100W capability. There are three AC outlets 120V/60Hz (each with three prongs), and so you can plug in just about anything. I'm told that the HomePower PRO series has a Pure-Sine Wave inverter, which means that its output is regulated and produces a smoother electricity to operate 99 percent of common home appliances without any interference.
Before I talk about the solar panels, I'll keep talking about the Homepower Pro 2 and its features. If you plug it into the wall, it can charge fully in two hours, and I can testify (as in, I tested it, that it's true). I am told that this recharges 6 times faster than competing generators using a Maximum-Power Point Tracking (MPPT) charge controller. If you want to charge the battery at the same time as your devices, you can do that with the Automatic Continuous Power System (ACPS).
Now, the official website says it takes 30 seconds to set-up, but honestly, it was however long that I took it out of the box. It has a build-in LED light just in case you need to see clearly while you are charging what you need charging.
So, once I had this charged up using power from my house, I just had to try it out with the solar panels. These panels are quite long, and they have these retractable stands so they can lean up at an angle. I mean, you have to collect the sun, which requires it as certain angles.
So yes, I set it up to charge up, and it took a while. The thing is that the product description says it can charge by solar in two to four hours using the four 200W max output cells. I put it in the sun for about 45 minutes, and it went from…I honestly don't remember, but check the video below. I didn't think that was much, so I connected both solar panels.
I did the math, and I don't think that is exactly going to live up to the product boast. I'm certain that the company website states that it takes 2-4 hours to charge up this generator with the solar panels, but it might refer to different solar panels than I had.
There is another issue that I had, as this Geneverse power station says it can hold a charge for up to a year. The problem is, I left this thing off for a day, and it was down a few points for percentage of power.
Facts About The Company
Geneverse was founded in the San Francisco Bay area, and the founder was apparently inspired by all the power outages that were happening around 2019 due to wildfires. There is also some serious concern about climate change, and we are obviously going to want some sustainable energy solutions, right?
The company really wants to create products are "deftly designed, fully tested, and certified". They claim to have state-of-the-art battery materials and manufacturing processes to create these cool generators. Oh, and the company used to be called Generark.
What Does This Company Make?
I see a lot of generators as well as solar panels on the "Products" page. It doesn't take a genius to realize that this company makes a lot of sustainable products made for a solar world. There is clearly a future for that.
Just the Specs, Man
If you're the type that needs this info, this section is for you!
Geneverse Homepower Two Pro Specs
Battery:
Capacity: TWO PRO: 2419.2Wh (63Ah/38.V DC)
Type: Lithium Iron Phosphate (LiFePO4)
Cycle Life: ≥3000 cycles
Inputs:
AC 3-pin Port: 120V~60Hz, 12A
2X DC Charging Port: DC, 11.6V-54V, 10.5A, 400W Max each (800W in total)
Solar Charge: Supports 17.5V-54V, 10.5A, 400W Max each (21A, 800W in total)
Car Charge: Supports 11.6V-17.5V, 8A Max each (16A Max in total)
Charge Controller: Built-in Maximum Power Point Tracking (MPPT)
Outputs
3X AC Outputs: 120V, 60Hz
2200W Rated Power, 4400W Surge Power
2X USB-C: PD 100W, 5V/3A, 9V/3A, 12V/3A, 15V/3A, 20V/5A, 100W Max
2X QC 3.0 USB-A: Qualcomm Quick Charge 3.0, 5-6.5V/3A, 6.5-9V/2A, 9-12V/1.5A
Dimensions and Weight:
Dimension:
TWO PRO: L 17.83″ x W 11.02″ x H 14.11″ (45.3 x 28 x 35.85 cm)
Weight:
TWO PRO: 61.3 lbs (27.8 kg)
Temperature
Operating Temperature (Charging): 32°F ~ 104°F (0°C ~ 40°C)
Operating Temperature (Discharging): 14°F ~ 104°F (-10°C ~ 40°C)
If there is something on this that I didn't cover, please let me know.
200W Solar Panels
Solar Cells
Type: Monocrystalline
Number of Solar Cells: 64 each solar panel
Transformation Efficiency (EFF): ≥23.4%
Power
Max Power (Pmax): 200W
Open Circuit Voltage (VOC): 23.2V
Short Circuit Current (ISC): 11.76A
Max. Power Voltage (Vmp): 18V
Max. Power Current (Imp): 11.12A
Dimensions and Weight
Dimension (folded): L 24.2″ x W 21.3″ x H 1.97″ (61.5 x 54 x 5 cm)
Dimension (unfolded): L 91.3″ x W 21.3″ x H 0.98″ (232 x 54 x 2.5 cm)
Weight: 17.64 lbs (8 kg)
Temperature
Operating Temperature (Discharging): 14°F ~ 149°F (-10°C ~ 65°C)
Waterproof Rating
IP67: Dust-tight. No ingress of dust. Protection against the effects of immersion in water between 1cm and 1m (no greater than 3 feet) for 30 minutes.
What Do the Reviews Say?
On the Geneverse website, it has 21 reviews, with 20 being 5-star ones. Oddly enough, there are no reviews of this particular model (the HomePower Pro Two and the dual solar panels) on Amazon.
Okay, Get To The Unboxing Already!
Okay, I Like It, Just Give Me The Link So I Can Buy It Already!
If you want to get a deal, click here and use the code: TheGeekChurch100
Maybe I Want It, But Is There Anything Else Like It? Maybe For A Lower Price? Please?
I've rarely reviewed a generator, with the last being from Anker with the Powerhouse Products for the Ultimate Power Supply. These were pretty low in their value, and I'm not certain how much power they had.
We really want to review one from UGREEN, but they said no, for now. Do you hear me, UGREEN? You should, because I'm reviewing your competition.