Introduction (Does It Do What It Should)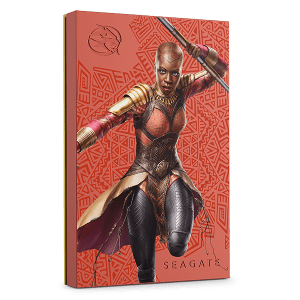 So, this is the second time reviewing a Seagate product, and this is quite an external hard drive at 2 TB. Of course, this one has a character on it, and this one is Okoye, and if you don't know who that is, maybe you need to watch Black Panther again.
Yeah, Okoye is one of those cool bodyguards from Wakanda who is a part of the Dora Milaje, and, I don't know, I actually really didn't even know about these elite group of warriors. Man, I realize that I write for TheGeekChurch, and there was a time when I knew everything about the intense mythology of these cool cinematic universe films.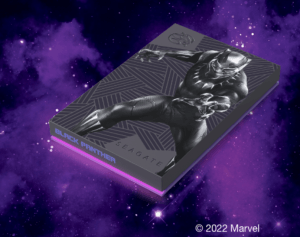 However, who doesn't need 2 TB of memory every once in a while? Seriously, I need a few GB each month just to store the videos that I make. Fortunately, this is easy to use as you just plug it in, and the computer recognizes it right away. By the way, it works on the PC, Mac, and, since this is made for gaming, good for the Xbox and PlayStation.
I have to love that indicator light, and how easy it is to move files over. I have to admit, that the USB-B charging cable was unusual, but I'm pretty certain that I said that last time I reviewed that Seagate Miles Morales and Star Wars External Hard Drives. In addition to the Okoye External Hard Drive, there is a Black Panther Hard Drive available too.
Facts About The Company
I've heard about Seagate before, and I checked out their "About Us" page, because this is in fact, what I do, really. Seagate has three different values of Integrity, Innovation, and Inclusion.
The whole integrity thing I like, because, I like integrity. Then there is the whole innovation thing, and I would hope that I have at least some better than average than that. As for inclusion, that would be good as well.
What Does This Company Make?
When I went through the company's website, and I was pleasantly surprised by the amount of hard drives that they have. Yeah, that is really great, and I've seen Seagate products at Wal-Mart and pretty much wherever they sell anything.
Just the Specs, Man
If you're the type that needs this info, this section is for you!
Capacity
2TB
Dimensions: L x W x D
0.57in × 3.15in × 4.82in
Weight
167g/0.368lb
System Requirements
Works with PC, Mac, PlayStation, and Xbox. Visit seagate.com/os for full details.
What's Included
Okoye Special Edition FireCuda External Hard Drive
USB 3.2 Gen 1 Cable
Quick Start Guide
Rescue Data Recovery Services
If there is something on this that I didn't cover, please let me know.
What Do the Reviews Say?
Oh my gosh, this has about 47,715 ratings! Not only that, the average rating is about 4.7 stars.
Okay, Get To The Unboxing Already!
Okay, I Like It, Just Give Me The Link So I Can Buy It Already!
Maybe I Want It, But Is There Anything Else Like It? Maybe For A Lower Price? Please?
Actually, I haven't really had much of a chance to review many external hard drives, besides Seagate.