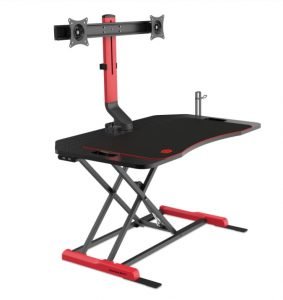 Okay, after our review of the cool Typhoon 216, we had a chance to review another great Atlantic Inc product with this. This is the Dardashti Gaming Riser, and I want you to know that size does matter.
If you thought this was a desk, that is where you would be wrong. You need to look at the video to see the actual size of this item. I believe that this is a thing that you can use to game, if you want to game standing up, or if you want some extra monitors. Yes, those two things there are for your monitors, and you should really use them, for gosh's sake.
You can see that there is also a place to hang your headphones, and there is also a cool place so you can have some extra USB ports, two of them, actually, if they are properly connected.
Putting it together was pretty simple, and it took about an hour. I found it was a little difficult to make these legs flex, but if you just hold a button on the bottom, it does it.
If you want to get the Dardashti Gaming Riser, you can get it on the Atlantic Inc site for $349.99.