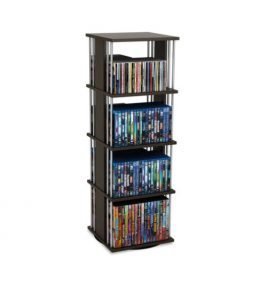 This is my first review of a product from Atlantic Inc., and I got to know them at CES 2021, which I wish I could have attended. But hey, enough of my COVID-19 wishes.
I'm sure that you can probably see what the Typhoon 216 Media Spinner is: a place to hold your CDs, DVDs, Blu-Rays, or anything else that is made like that. The reason why it is called 216 is because it can hold that number of CDs. It can also rotate, which is very, very cool.
I have to admit that this is the first time that I have reviewed a thing like this. It's kind of like reviewing something from IKEA or something. So I should probably talk about how to build it.
I believe that I discuss this in my video, but there are these small dowels holding the shelves on, and they were very loosely on there until the top and bottom parts were screwed in place. I liked how the metal poles worked in, and it certainly gives the Typhoon 256 Media Spinner a very unique aesthetic.
Well, I think you might really like this as it fits into any place, not matter what the furniture you have. You can purchase it on the Atlantic Inc website for about $59.99.