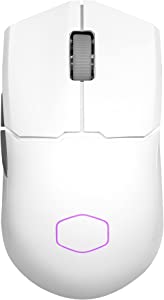 So, I had chance to review another terrific Cooler Master product, and I just reviewed the MM712, so let's do the MM311.
So, I was very surprised that this is a wireless mouse, and I will explain why in a little bit. It has 2.4 GHz wireless connectivity, but it is not chargeable.
Yes, you have to put in a battery to get this a-running, and it runs with a 10,000 DPI for greater tracking and precision. IT is also super-lightweight at 77 grams, and that is with the battery. While I'm on the subject of battery life, it has 115 hours of it.
So, I am using it now, and about the only problem that I had with it was where to put the battery. You kind of have to pry off the top of it, and shove it in there. It has the dongle in there, but I found that the weird hexagonal shape doesn't glow like on previous Cooler Master mice that I have reviewed in the past.
So, I'm going to get to the price, and it is quite low as I found it for just $39.99 on Amazon.