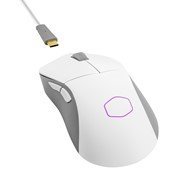 Ah, Cooler Master, why are you so good at giving us the really cool gaming products that you give? We had a terrific time reviewing the SK622 and MM720, and now it is time to review another terrific gaming mouse with the MM731.
Of course, I have to try out any mouse that I have for a while before I do a full report, which is what I have doing for the past week. The first thing that I want to say about the MM731 is that I totally love its wireless functionality. Now, you could go for Bluetooth if you wanted, but I just went with the wireless dongle that is built right in. (In fact, it took me a while to find it and learn how to use it.)
This leads to a discussion of the battery life. I didn't get a chance to test it for this long, but the MM731 can last 190 hours on Bluetooth, and 72 hours on the other option of 2.4 GHZ wireless. The included charging cord has this very cool design that feels more like a shoelace rather than a wire. It is known as ultraweave cable that has durable but lightweight fiber.
So, if you are looking for a mouse that glides, this would be that. I found that it worked best wirelessly, and it has a 19000 DPI Pixart optical sensor. Not only does it have the buttons required to help you game better, but it has some very cool RGB lighting to add to it.
So, if the MM731 sounds good to you, head on over to the Cooler Master website for more information. I couldn't find much of how to buy it there, but I did see it on Amazon. It's regular retail price is usually $89.99, if you want a comparison shop.