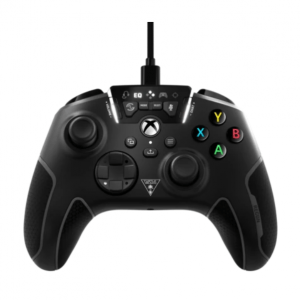 Turtle Beach is a company that is known for their headsets, but they also make game controllers. If you like to have control of your audio in the palm of your hands, this could be the controller for you!
The Turtle Beach Recon controller for Xbox and Windows 10 is currently in pre-sale, and slated to ship in August. We were fortunate to get a sneak peak of the controller thanks to Turtle Beach- a company that we have done reviews for in the past. The last review was of the Turtle Beach Recon 500 headset a good pairing for this game controller. We don't have an Xbox, so our use was through some PC games.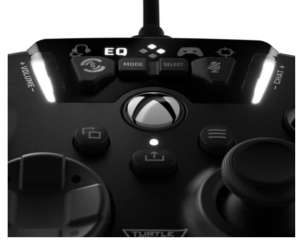 Audio controls on the controller include equalizer presets, volume, mic mute, mic monitoring and more. It will work wonderfully with any analog headset you plug into it. Even the sound on a basic pair of wired earphones was epic and they have a "Superhuman Hearing" sound setting- which will amplify quiet sounds.
This image is a closeup of some of the control buttons. These buttons give you other control- like mapping action buttons (which are conveniently under the remote in a nice position for the ring fingers or middle fingers- whichever you find convenient.
The buttons are textured to provide a non-slip grip, which people can either hate or love. Maybe you will grow to love the feeling. The grips are rubberized, and I find them to be comfortable in my hands.
Overall, this is a nice controller for $59.95. I suppose we will see a lot of controllers at PAX 2021 in Seattle in a little over a month. We're looking forward to seeing all the new items, and hope to be able to bring lots of product for our readers and viewers! Make sure to follow us and subscribe to our Youtube/TikTok channels.