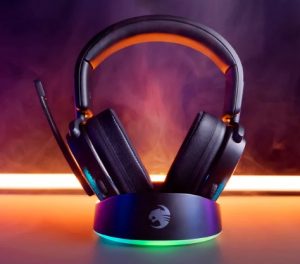 So, it's time to review another terrific Roccat product, and that was the Vulcan II Mini. We are not finished reviewing that, and will have a review of the next Vulcan product soon, but we'll have this Syn Max Air Gaming Headphones to tide us over.
I'm going to tell you that I do love these. If you are looking to add some really great audio to your game, then you should check these out. I paired this with something not even really gaming-related (my phone) and I got some very superior sound that I loved. This is due to the 3D audio as well as 50 mm Nanoclear drivers from our friends at Turtle Beach.
Since most gaming headphones have to have that flip-up microphone, the Syn Max Air has one as well. Of course, it can flip-to-mute, and it has crystal communication. Yeah, you can see me in the video not connecting it right, but I did get it right. I can't seem to figure out how to change the color on the headphones themselves.
What I don't see on most gaming headphones is a charging pad, and this one has it. What you have here is something to put on the headphones, and it charges them with some cool colors. You can see me in the video discovering how to use the two chargers, and it depends on how you want to charge them.
Now, you can pair this with the PS5, PS4, and Nintendo Switch, and I didn't really have an Xbox to try this out on. I suppose the only feature I should talk about is the battery life, which is 14-16 hours. (Kind of forgot to mention it in the video.)
Not only is that not bad, but it is very good. Head on to the Roccat website and pay $249.99 for it.