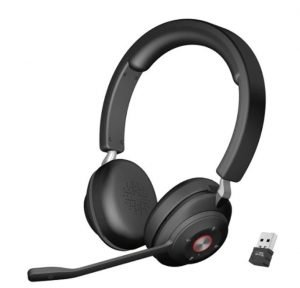 So, since we had a chance to review the Matterhorn microphone, we are going to do another great Cyber Acoustic product.
We're doing the Essential Wireless Headset (HS-2000BT), which is a lightweight headset for business or consumers.
You know I said that it is for business? Well, it works with Unified Communications platforms like Microsoft Teams, Skype, Zoom, Slack, and Google Meet. You can see me check it out in the video, and I'm going to do a TikTok on it sometime…in the next few weeks for a better demonstration. Yeah, the YouTube video below seemed to be recording multiple sounds, otherwise the mute would have worked like on the Matterhorn Mic.
Set up is pretty simple as you just plug and play it into the USB dongle. Then it can do the Bluetooth wireless stuff and it can run for 27 hours. As for the charging, it has Qi wireless capability and you can charge it via USB-C as well.
So, there is a great controls on earcups like answering/ending calls, volume control, and the whole rotate the mic for instant mute. I was not really able to put the sound on my video, but I will have to tell you that the sound is quite good.
I distinctly remember that these are some great headphones for business or pleasure. If you want to get this CA Essential Wireless Headset, head on down to the Cyber Acoustics website for $129.99.