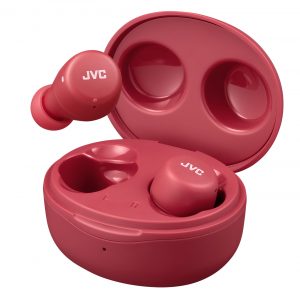 It seems it has been a while since we reviewed a JVC product, about 4 years. I'll go ahead and get this out of the way and say I really should be reviewing more JVC products. For now, I have the JVC Gumy Mini True Wireless Earbuds (JVC HA-A5T).
Yes, I spelled it right, it is "Gumy" with one "M", and I am not certain why. It's not like they are gummy bears or something, but they do give some very good sound.
Of course, it feels that wireless earbuds are starting to get cheaper and cheaper, with the quality depleting. Sadly, I can't really testify that these will last because…I just got them. I can say that the sound is super-good, and connecting them to my phone and hearing some really good vids.
So, what matters is the battery life, which is 15 hours with the case. What also matters is that they are rain proof as they are IPX4 certified.
The JVC HA-A5T or Gumy earbuds are available in five different colors (Matcha Green, Blueberry, Watermelon Red, Coconut White, and Olive Black) for a price of $29.95 on the JVC site.