Introduction (Does It Do What It Should)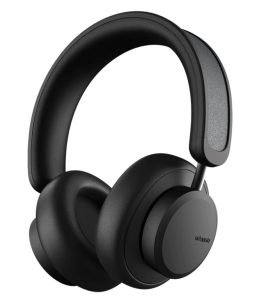 So, this is isn't my first rodeo, and by rodeo, I mean reviewing Urbanista's products. You might remember when I reviewed the Phoenix, and now I get to review the non-earbud audio product with the Los Angeles. Considering that they are both solar powered, I thought it was a good comparison, and everyone knows that headband headphones give better sound than earbuds, right?
Yeah, I'm sure some audiophile is going to leave a comment saying how wrong I am, so please do. In fact, leave it on the YouTube video, which I thought was pretty spankin' good. I think a lot of it is that I am very excited for this product, because I like how this cool PowerFoyle technology uses light to keep it powered up.
I mean it features "Virtually Infinite Playtime", and that is something, isn't it? Apparently, the Los Angeles headphones are always charging when it is in light. There is a USB-C port, though.
Apparently, there is 80 hours of battery reserve, and I think I mentioned this in the video, but Urbanista's Los Angeles headphones don't even come with a charging cord. Actually, I take that back, there is a charging cord. It was concealed in the instruction manuals.
The pairing was pretty easy with Bluetooth 5.0, and the sound was truly something else. Part of that is it features Active Noise Cancelling and Ambient Sound Mode. Oh man, it is good, which is very interesting because its design is pretty minimalist. I guess that doesn't really mean anything.
You probably saw how excited I was when I discovered that you can remove the headphones and that will result in a automatic pause. I was listening to YouTube, by the way, so I have no idea what it would do with music apps.
Speaking of music, there is some cool buttons that allow for advancing the tracks and increasing/decreasing the volume. Now, these buttons are pretty close together, but increased use can get you used to them.
Facts About The Company
I am on the Urbanista site now, and I'm really having a hard time finding an "About Us" here. It's pretty clear that everything about their products has to do with audio. I did see a thing on the website talking about simplicity, and the company likes to "minimize everything that holds you back". They also say to "treat yourself to everyday luxuries that you've been missing", and both of those quotes are a more than adequate description of what the company of Urbanista is into.
What Does This Company Make?
I just said that Urbanista wants to do audio products, so it has the usual headphones, earbuds, and speakers. I've seen these on many company's catalogues, but what makes Urbanista different? Perhaps it is the minimalist look that does it.
Just the Specs, Man
If you're the type that needs this info, this section is for you!
KEY FEATURES
Virtually infinite playtime
Always charging when exposed to light
80 h battery reserve
Hybrid active noise cancelling
Ambient sound
On-ear detection
USB Type-C charging
Bluetooth 5.0
Siri and Google Voice Assistant
Compatible with iOS & Android
SPECIFICATIONS
Drivers: 40 mm dynamic, moving coil
Microphone: electret condenser
Echo cancelling: built-in DSP
Battery capacity: 750 mAh
Bluetooth version: 5.0
Bluetooth class: 2
Profiles: A2DP 1.3, AVRCP 1.5, HFP 1.6
Codecs: SBC and AAC
Range: ≤10 m
Frequency response: 20 Hz to 20 kHz
Sensitivity: 107±3dB @ 1 kHz
Impedance: 32 Ohm ±15 %
If there is something on this that I didn't cover, please let me know.
What Do the Reviews Say?
I see that there are twenty-four reviews on the company website, and they average out at four stars.
If you go to Amazon, you will find the rating is lower at 3.6 stars with 139 stars. I think this is worth a whole lot more than that, really.
I mean, I gave it 4.9 stars. The only thing kept me from giving it 5 stars is that I can't verify if it does give infinite power.
Okay, Get To The Unboxing Already!
Okay, I Like It, Just Give Me The Link So I Can Buy It Already!
Maybe I Want It, But Is There Anything Else Like It? Maybe For A Lower Price? Please?
Geez, how many of these dang wireless headphones have I reviewed? I don't know. How many of them are solar powered? This one I know…none. I usually review a lot of headphones before Christmas, so maybe we'll reviewing something like this.
My most recent reviews headphones are the following, and I can recommend them.
I remember reviewing these Haymaker Headphones, and I'm pretty surprised that I didn't hear more about them. I did here a lot about the 1More SonoFlow, and I liked them a lot. Anything else that I have to talk about are gaming headphones.