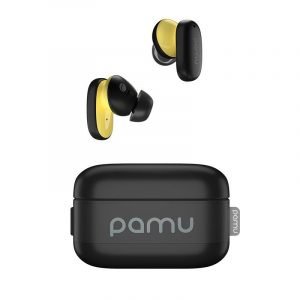 Oh yes, we have done a great review of the Pamu Slide Mini, and so we were very glad to review the Pamu Z1 Pro. (Yeah, this is one of those products where I am very not certain if the product that I am reviewing directly matches the name of the product as advertised.)
Dang, that last parenthetical was confusing, so let us get to the review of the earbuds. Let's talk about the unique shape. It has this weird angular thing going on to keep them in your ears, I guess.
Oh, it also has active noise cancellation and dual microphone noise cancellation. As for the Bluetooth, it is actually the latest version with Bluetooth 5.2.
What I found very interesting is how it has 24 hours of playback on just one charge, and it can even do a Qi-certified wireless charging capability.
Now, I have some interesting news on the price. At the time of this writing, the price is $69.00, but it shows up on the Padmate site $99.00.