Introduction (Does It Do What It Should)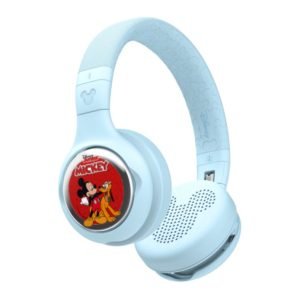 Does it do what it should? I think the question is does any product do this? I mean, do you have a pair of headphones that you can stick on a StoryShield and it will tell you stories? Unless you have the StoryPhones, the answer is: I think not!
Yes, this is a very unique product that is made for a very specific audience. It's pretty clear that this company, OnanOff, might be wanting to turn off the newest generation's screen time. I mean, when I was a kid who is the age for StoryPhones, the only screentime we had was a TV that had about 7 channels, with 2 of them having a clear picture.
Yeah, that does sound like I am some old man telling a story about how much better the world was better without this newfangled technology. The thing is that the idea of storytime for younger audiences can be done through a book, or someone reading a book, but just watching a show is just not the same.
So, OnanOff created this specific pair of headphones to essentially recreate this experience. As I have said before, the StoryPhones have this StoryShield that works like a CD. What is interesting is how it just snaps on, and then you have these controls on the side for advancing the track, or raising and lowering volume.
Speaking of volume, I am probably going say that hopefully you can't turn these things up too loud. It seems like the company has a reputation for that, although I can't really confirm that. I checked out the description and it said that it had SafeAudio, but I'm not certain what that means.
Now, these guys are also Bluetooth enabled. I found this out when I tried to link them to my smartphone, but I was told that an app was required. At that point, I kind of said "dang" as I am just tired of setting up accounts. I found that the sound on the headphones are pretty good.
However, I really should be talking about how simple it is to play the StoryShield. I mean, it just kind of snaps on there thanks to the power of magnets. It does stay there and immediately plays, which is kind of interesting. If you want the tune to stop, just take it out. It's weird how it kind of stays playing for a few seconds after you eject it from your ear. Oh, and when you put on the StoryShield again, it starts playing from wherever you left off.
I spoke earlier about how I didn't really like how I had to download an application and set up an account, but I see why now. It is possible to make a Playshield with custom artwork, and then you can put your own voice on it. Yes, if you want to tell your own stories or even put your songs on there, you can do that. The possibilities of these PlayShield are limitless. The website calls it "stories bridging generations", and I agree with that.
I had a chance to try out some of the other StoryShields that the company was nice enough to send me. I wasn't too big on the tales from Mickey Mouse Clubhouse, and I think I was way too clear as to how I felt about Mickey Mouse Clubhouse. There were some other tales that were told like you would tell a kid before bedtime, and then there was one that had a lot of white noise. I think I could use those sounds in my head!
Facts About The Company
The company seems to pride itself to create innovative audio products for diverse listening needs, and it would be targeted for younger viewers. There are a few things that the company does that are not for kids, but they seem to be very content on the marketing and targeting products for kids.
What Does This Company Make?
So, we have actually reviewed their products on several occasions. One of them was the Buddyphones. We also reviewed the WAVE headphones, which are essentially the Buddyphones, but wireless. I have reviewed other products from them as well like the Sound Cover and the Dock Minimal.
Just the Specs, Man
If you're the type that needs this info, this section is for you!
There doesn't seem to be any spec sheet that I could copy and paste, so I just kind of didn't.
If there is something on this that I didn't cover, please let me know.
Okay, Get To The Unboxing Already!
What's in the Box?
Disney StoryPhones Light Blue (there's also a pink version)
Disney StoryShield of Mickey & Pluto
USB-C charging cable
Audio cable (Aux-to-aux)
Carry bag (I'm pretty certain that it fits)
What the Reviews Say
Since I wasn't able to find this particular item on Amazon, I really couldn't find a review of this. Even on StoryPhone's own website, I couldn't find any user reviews either. Yeah, it is very weird.
Okay, I Like It, Just Give Me The Link So I Can Buy It Already!
I really couldn't find this on Amazon, at least, not the exact model of it. I find that very odd, honestly. I mean, this is a pretty new product.
I'll go ahead and put this link to the StoryPhones website so you can check it out and purchase it for about $99.99.
Maybe I Want It, But Is There Anything Else Like It? Maybe For A Lower Price? Please?
I don't know anything like this, except whatever OnanOff is making. I mean, there are headphones that allow you insert an SDcard so you can play your playlist, but nothing like this. This particular product is definitely designed for younger people, and the content made for it is made for the enjoyment of the young.
I suppose that you could buy a pair of cheap headphones for your kid, but I don't know how durable they will be.